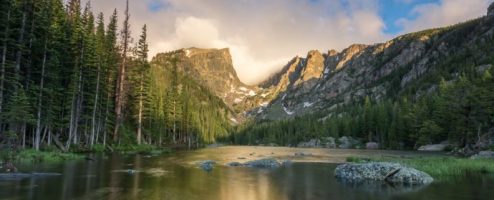 I first visited Rocky Mountain National Park in the winter of 2002-03 when visiting Colorado. I knew remarkably little about the Park then and I believe my first hikes (snowshoes, technically) were in the Cub Lake area and Deer Mountain. Beautiful areas, but not the most iconic spots in the park, either.
I moved to Colorado in January, 2004 and the Park quickly became a frequent playground. Snowshoeing and later hiking on many days off. Then, as I got introduced to ice climbing, I discovered the world-class climbing that the park contained. Funny how you can walk by cliff faces one day and not think anything of it and the next be able to spot famous climbing routes dotted across them.
I got to know the Park, from its seasons to specific trails, through day hikes, backpacking, climbing, and later, photography. It was the latter that really drove my familiarity with the Park. Revisiting the same area over and over hoping the light, weather, foliage, and more would all align to create a great photo.
→