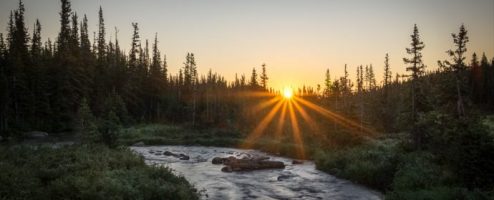 Including the sun in your photograph can provide a dramatic focal point to draw the viewer's eye, but capturing and processing a pleasing photo takes more than a simple snapshot.
The photo I'm working with here was captured on a morning outing in which I was hoping for a colorful sunrise on a mountain lake, but the skies were completely clear and there was little color to be had. However, I turned around and had a nice view with the creek draining out of the lake so instead set up and waited for the sun to break the horizon.
There were two key challenges with making this photo while photographing directly towards the sun:
Achieving proper exposure (the sun/sky isn't too bright and the landscape isn't too dark)
Lens flare as a result of a strong light source entering the lens
Here's how to overcome both of them.
→